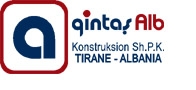 GINTASALB
Gintas Groups establishment interest in Albania reach back to 1993, as a matter of general policy to enlarge activities within all Balkans. GINTASALB has been established on 1994 to realize the New Laprake Housing Project as the fîrst example of public private partnership. Works in this project, commenced practically on 1995 after relevant planning studies, unfortunately had been interrupted during 1997 - 1999 period. Realization of the project, starting again at the year of 2000 by revised planning design according to actual requirements, progressed in harmony with scheduled planning foreseen to be completed at the end of 2006.
Being awarded with "Albanian Leadership 2004" for Private Business, regarding professional stards social responsibility for design correct implementation of this project, by NGOs in connection with World Urbanization Day activities in 2004, is one of the most satisfying facts against hard works of years in this period.
GINTASALB has also taken part in works of GINTAS INC. contracts in Albania as local subcontractor. Together with other projects realized durîng these years, which spread over all Albania, all these successful works have acquired a very experienced staff list for GINTASALB, meanwhile creating a full reference list.
As the last, Honorary Consulate of Republic of Albania in Bursa / TURKEY, being held by Mr. Necip Naci DOGRU, President of Gintas BoD, starting in year of 2003 is another important fact as the source of proud responsibility for GINTAS in relations with Albania.